The finest restaurants in the old city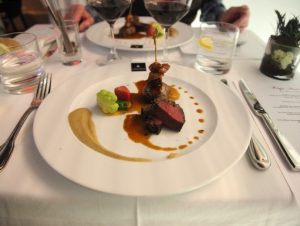 Old Québec is the most popular tourist destination in Québec and features many of the greatest restaurants in the city. In the tradition of Serge Bruyère, many fine chefs in Québec are found in Québec city. Let us mention Jean-Luc Boulay (Le Saint-Amour and Chez Boulay), Arnaud Marchand (Chez Boulay), Daniel Vézina (Laurie Raphaël) and Louis Pacquelin (Panache) among others. Jean-Luc Boulay and Arnaud Marchand from Chez Boulay offer the experience of northern French cuisine while highlighting typical local products. It is located on the ground floor of the elegant Manoir Victoria, on Saint-Jean Street. Close by, Mr. Boulay also presides over the kitchen activities at Saint-Amour, a prominent figure of Québec's gastronomic scene. Moreover, Saint Amour appears in Trip Advisors' top 10 fine dining restaurants and it is not unusual to spot a celebrity seated there.
Situated in an old 18th century warehouse in Vieux-Québec and part of the Auberge Saint-Antoine, the restaurant Panache offers the refined menu of chef Louis Pacquelin. While there, you can discover the artefacts showcased on the walls of the building, recalling the rich history of the French colony.
Tourists will also appreciate Les Anciens Canadiens, a restaurant established in a heritage building, where you can discover or rediscover some of the classics of traditional Québec cuisine. Near Château Frontenac, the Continental is renowned for its flambés. Close by, Le Parmesan offers delicious classics of Italian cuisine