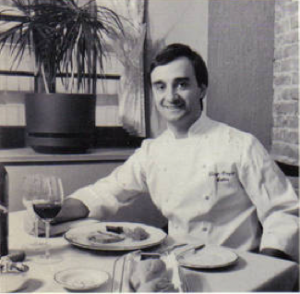 A native of Lyon in France, Serge Bruyère fell in love with the city of Québec from his very first visit in 1976. He immigrated to its province during the Montréal Olympic Games, working at the Queen Elizabeth Hotel before moving to Québec city. Prior to leaving his native country, he had undergone his training in the kitchens of l'Auberge du Tunnel in Auvergne with Paul Bocuse and the Troisgros brothers. He first worked at the Hilton before becoming executive chef at the Éperlan restaurant. One year later, he founded the Marie-Clarisse restaurant near the Breakneck Stairs (l'Escalier Casse-cou) with another partner. In 1980, he undertook a new adventure at the Maison Livernois on Saint-Jean Street, this time on his own: Serge Bruyère's restaurant À La Table was created. He was among the very first chefs to work closely with local craftsmen in order to obtain high quality products for his menu. Serge Bruyère died prematurely in 1994 at the age of 33. His heritage is considered enormous: he introduced an updated version of haute cuisine, laying the foundations of a gastronomy concerned with great quality and based on a relationship of proximity with his suppliers. Throughout the 14 years of existence of À La Table, Bruyère devoted time and energy in training dozens of competent chefs like Daniel Vézina, Jean Soulard and Marie-Chantale Lepage, who to this day remain inspired by his culinary philosophy.
His passion for gastronomy as well as his devotion to the recognition of the trade were immense. He knew how to transmit his enthusiasm and the importance of working with precision, and also to respect clients and producers. Bruyère is one of only two Québec chefs to be included in the Larousse gastronomique lexicon, and was the first to introduce new cuisine to the city.
He was a humble, sympathetic and respected chef. His passion for quality produce and his unfailing technique and hard work, along with the sharing of his knowledge were of utmost importance to him. The Fondation Serge Bruyère, which is dedicated to the encouragement of Québec's new culinary talent, serves to perpetuate his legacy.