In the heart of the Pays d'En-haut
A few kms from Saint-Sauveur, the small town of Sainte-Adèle stretches along 120² km on both sides of Rivière du Nord, in the heart of the legendary Pays d'En-haut. Claude-Henri Grignon had set his cult classic novel Un homme et son péché here, bringing fame to the village throughout French Canada. The story unfolds right before the arrival of Curé Labelle's legendary P'tit Train du Nord, which finally linked Sainte-Adèle to Montréal in 1891. This was just before the region started welcoming skiers and tourists, which since have become the main economic engine of the city.
Sainte-Adèle owes its name to its founder, Augustin-Norbert Morin, a lawyer, journalist and politician. He founded the newspaper La Minerve, became the leader of the Parti Patriote, and later deputy of the Parti Rouge. In 1855, he named the new village in honour of his wife, Adèle Raymond. As the Prime Minister of Lower Canada from 1851 to 1855, we owe this reformer the social abolition of the seigneurie inherited by the French Monarchy in 1854. He also contributed to the foundations of Morin-Heights and Val-Morin, a few years before the arrival of Curé Labelle.
Only 64 km away north of Montréal, Sainte-Adèle has since become a renowned and unique crossroads for lodging accommodations and fine dining. In 2013, the cultural life here was stimulated by the opening of Place des citoyens, presenting exhibitions, shows, musical concerts and conferences. This performing arts venue offers an extensive, year-round program. In the heart of Claude-Henri Grignon park, the Place des Citoyens also hosts the Marché public de Sainte-Adèle in the summer. For the past 65 years, Pine Cinema has been an institution in Québec, giving an important place to independent cinema. Lastly, the art galleries and museums complete the cultural visits in Sainte-Adèle.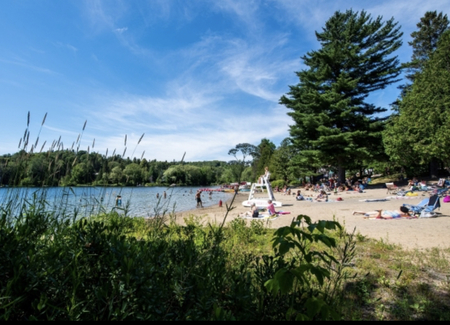 But Sainte-Adèle is first and foremost a place to enjoy the outdoors, reputed for its magnificent Lac Rond, a real gem located in the heart of town, as well as its impressive hiking trails and bike path circuit, its equestrian and golf centres, its snowmobile tracks as well as 3 ski resorts.
In 1991, 100 years after its arrival in Sainte-Adèle, the layout of the P'tit Train du Nord train tracks gave way to the longest linear park in Canada, with a 230 km bike path linking Montréal to Mont-Laurier up in Hautes-Laurentides. The project was inaugurated in 1996, more than 25 years ago.