Sillery, Sainte-Foy and Cap-Rouge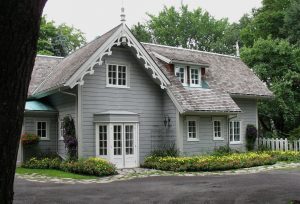 Sillery, Sainte-Foy and Cap-Rouge have the reputation of being the more affluent neighborhoods of the capital. This area is home of the main campus of Université Laval, the oldest francophone higher education establishment in America, where the first LGTBQ organization in the capital, the Groupe gai de l'Université Laval, first appeared.
Whether arriving in Québec from the south shore using the highway or the Chemin du Roy, or coming in from the international airport, one inevitably crosses this district before accessing downtown Québec. There are also many hotels in the vicinity of the bridges, especially along Laurier Boulevard. This might be the more practical choices for those coming into the city by car, as the old narrow streets of Old Québec where obviously conceived for horse-drawn carriages and pedestrians, not cars. Shoppers will appreciate the proximity of the shopping malls also found on Laurier Boulevard.
Coming over the bridges from this district, you should visit the Promenade Samuel –De-Champlain park along the river, which was inaugurated in 2008 for the 400th anniversary of the city. Whether arriving by foot, bike or car, the promenade offers a spectacular view of the city and leads right into historic Old Québec. This is a great way to connect with a natural environment in the heart of the city.
Sillery is certainly the most affluent neighborhood of the capital. Its trendiest street, Maguire Avenue, is an area especially appreciated by our community, offering quaint boutiques, with good restaurants and nice terraces. It also features one of the most remarkable parks in the city, Spencer Wood, which became a showcase for horticulture in North America through the efforts of its owner, Henry Atkinson. For nearly 20 years, the governor-generals of United Canada lived on the property, which was purchased by the Québec government in 1870 and served as the residence of Québec lieutenant-governors until 1966. A major fire eventually destroyed the main residence. Visit the gorgeous park by the Saint Lawrence River, the beautiful gardens and relics of the site's long history.
Villa Bagatelle, with its distinctive irregular forms and ornamentations, was built in the picturesque English architectural style of the 19th century. The cultural centre hosts temporary art and history exhibitions. The Villa is also renowned for its garden where you can admire many native plants and a range of underbrush species.
Also noteworthy is the Aquarium du Québec, with its gardens and outdoor tanks, and a main building featuring many exhibition spaces. The venue includes nearly 10 000 specimens representing 300 species of mammals, indigenous and exotic fish, invertebrates, amphibians and reptiles. Watch marine mammals, such as polar bears, walruses and several seal species, frolic in the outdoor park. Many animals from the Pacific Ocean swim in our huge 350 000-litre tank. The area overlooks the Saint Lawrence River from atop a cliff, an excellent way of discovering these faraway regions.