Built along the port, the formerly walled off old city has a gastronomic tradition that goes back to the colony's beginnings. A time when hostels welcomed visitors from all over the continent and across the Atlantic. The Maison Pierre-du-Calvet, which was constructed in 1771, today still attests to this tradition, as it is the oldest building in Montréal still welcoming visitors and offering them its copious cuisine in the style of 18th century inns. Since that time, the gastronomic propositions have of course evolded and become more diversified – there are many great restaurants to be discovered in historic Old Montréal.
Near Notre-Dame Cathedral, you can begin or end your evening at L'Assommoir, with its trendy atmosphere and emphasis is on products of the terroir. On De la Commune street, just next to the Old Port, Da Emma is à Montréal Classic. From the decor to the plate, everything here transports us to Italy. More specifically, to one of those dining cellars that you only come across in Rome, which seems almost frozen in time. Located in a basement, the intimate space seats 140, plus another 70 on the terrace in front of the restaurant, weather permitting.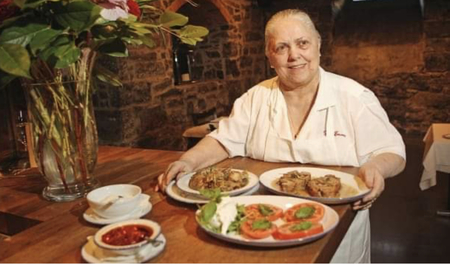 At the entrance, the celebrity wall confirms the reputation of the establishment with a numerous photos of stars from all over the world photographed with Emma. White tablecloths, period paintings, stone walls and wooden ceilings… the Italian charm is immediately felt, and most welcome.
With the urban re-development of the Faubourg aux Récollets west of Old Montréal, McGill Street has become a sought-after stretch of great restaurants and bistros from the Old Port to Victoria square. With its warm décor and friendly, laid-back ambiance, Ikanos invites you to rediscover some of the classics of Greek and Mediterranean cuisine, reinvented by the chef and owner Constant Mentzas. The seafood and fish is carefully selected and grilled in wood fire ovens. Located on the site of the old Soeurs Grises nunnery near the Old Port, the Bistro Brasserie Les Soeurs Grises offers a selection of home-brewed beers and a menu composed of local products.