On the tracks of the founders
Vieux-Québec and Vieux-Port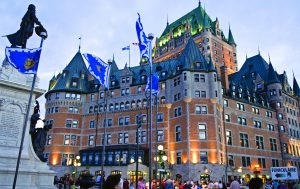 Walking in the streets of Vieux-Québec is like following in the steps of the pioneers who gave birth to this nation. Founded by Samuel de Champlain as a trading post in 1608, the colony first developed around l'Habitation de Québec before expanding into the first streets traced around the Place Royale in the heart of the Vieux-Port. Restored in the early 1970s, this historical district brings us back in time to the capital of Nouvelle-France (New France) at the end of the 17th century. This was the era of Louis XIV, a bust of whom adorns the area. As I myself am a descendant of Mathurin Gagnon, who was one of the first merchants of Québec and whose home and retail store were located at the current site of the Sault-au-Matelot park (or Parc de l'Unesco), walking on the cobblestones of these historic sites is like reconnecting with the history of our roots in this country. A few steps away, Place Royale is the main site of the annual Fêtes de la Nouvelle-France, recreating the French colonial era of its original inhabitants.
In the Vieux-Port, one must absolutely visit the Musée de la Civilisation. The neighborhood is home to many gay-friendly establishments, among them the restaurant Marie-Clarisse, which was opened at the foot of the Casse-Cou staircase by nenowned chef Serge Bruyère.
Heading up to Haute-ville, one can admire the elements of fortification which have made Québec unique, for it is the only still-fortified city in North America. It is the neighborhood commonly reffered to as Vieux-Québec. Built at the end of the 19th century near the Citadelle fort, the hotel Château Frontenac rises above Place Royal on one side of the Terrasse Dufferin. The latter is a splendid walkway offering a spectacular view of the area and is perfect for romantic strolls. One can easily understand why the founders of Québec chose this strategic spot to establish the colony, which would become the capital of New France, then Lower Canada and finally, Québec.
The gay lifestyle took root fairly early in Vieux-Québec. The Sauna-hôtel Hippocampe on Mac Mahon Street, the oldest gay establishment still operating in the province (where some might recognize the interiors used for Robert Lepage's film Le Confessionnal), has been open for over four decades. The owner, Yvon Pépin, had previously tended bar in many Vieux-Québec clubs, in a time when homosexual life was still mostly underground.
André Gagnon