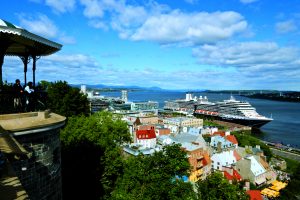 In the summertime, beach enthusiasts will not want to miss visiting the Baie de Beauport. It has been a popular cruising area for years, offering enchanting scenery on the Saint-Lawrence coastline. Every summer, visitors can practice volleyball, soccer, canoeing, kayaking and sailing, or just relax on the beach and have a swim. Baie de Beauport is located only five minutes away from downtown Québec.
At the far edge of the old port and Nouvo Saint-Roch, Gare du Palais serves as Via Rail's terminal and links Montréal to Québec City. Built in 1915 by the Canadian Pacific Railway, the two-story châteauesque station is similar in design to the Château Frontenac. This magnificent railway station has been designated as a heritage site.
18km from downtown Québec in the Ste-Foy-Sillery-Cap Rouge district, Jean-Lesage International Airport is the world's gateway into the capital and the eastern and northern regions of the province. It is the second most important airport in the province after Pierre-Elliott Trudeau in Montréal. Close by, the Grand Time Hotel's two charming establishments offer travellers some well-deserved rest.