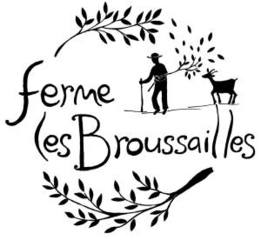 La Fromagerie Les Broussailles
277 Chemin Bulwer, Martinville, QC J0B 2A0
All our goat cheeses are farm-made, made from the raw milk of our goats and certified organic by Ecocert Canada:
Tomme des Broussailles, Tomme aux herbes, Chant des Broussailles, Broussaillon and Feta des Broussailles.
The Tomme des Broussailles is covered with a rustic-looking crust that varies with the seasons. This very mineral appearance is the result of a bacterial flora naturally specific to our terroir. Whatever its color, it is edible and its taste will be appreciated by lovers of forgotten flavors. It can even happen sometimes that the side of the cheese, the dough, is covered with blue or other colors: the cheese being a living ecosystem, it tends to be gently covered with its protective crust. Then just remove it to find the original appearance of the cheese!
CRU BERGER is a sheep cheese made from organic raw milk. Here we process milk from a certified organic sheep farmer in the region. A great collaboration!