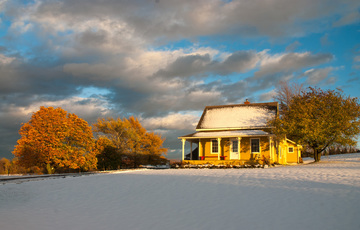 Au Blanc Marronnier
266, rue Principale, Racine (Québec) J0E 1Y0

At Au Blanc Marronnier, ienjoy the views on the most beautiful sunsets of the Estrie and where José and Germain welcome you to their ancestral farm house.
The vegetable farm
Fresh produce grown under your eyes!
Fresh vegetables and fresh fruits grown without pesticides or herbicides according to organic standards are grown and sold on site during the summer. It should also be mentioned that vegetables are the basis of our prepared dishes.
Come and see our garden and eat our beautiful vegetables!
The country table.
It is with great pleasure that we can offer you, from July, meals on the farm. These meals consist mainly of vegetables (without pesticides) from the farm and quality local products. Au Blanc Marronnier offers a cuisine consisting of local products and inspired by world cuisine. An offer of vegetarian or meat dishes will tempt you and please you. A different menu is offered every month to follow seasonal products.
We offer brunches on Sunday mornings. It is also possible to book for a group of 10 people and more on Friday nights and Saturday nights, We organize gourmet picnics once a month, dates will be specified on our Facebook page.