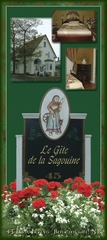 Le Gîte de la Sagouine
43, boulevard Irving, Bouctouche, Nouveau-Brunswick, E4S 3J5

Located in the heart of Bouctouche, this cottage offers an ideal haven.
You will find a warm atmosphere and an exemplary quality of service.
The rooms and suites will charm you with their Victorian decor.
Take advantage of the nearby area attractions that are just minutes away, such as:
-The Pays de la Sagouine
-The Farmers Market of Bouctouche
-Eco-Center of the Bouctouche Dune
-Etc ...