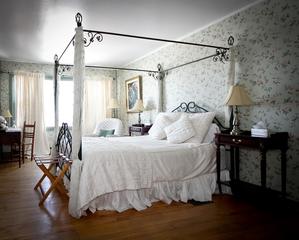 Auberge Aux Jardins Champêtres
1575, Chemin des Pères, Magog, Québec, J1X 5R9
Welcome to our beautiful Eastern Townships region and thank you for choosing our Auberge AUX JARDINS CHAMPÊTRES.
Since the opening in 1993, we offer our customers great service in a relaxing environment. Choose from one of our five beautifully decorated rooms which will ensure you a wonderful nights sleep. We are dedicated to offer you a dining experience characterized by the variety and freshness of our homemade local ingredients.
We hope to see you soon Aux Jardins Champêtres.

Josée Paradis and Mario Monty