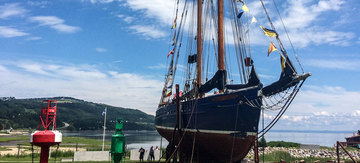 Musée Maritime de Charlevoix
305 Rue de l'Église, Saint-Joseph-de-la-Rive, QC G0A 3Y0
MISSION
Interpret and showcase the history of wooden schooners in Charlevoix and their cabotage on the St. Lawrence through exhibitions, conferences and publications.
In addition, the Museum watches over its collection and archives, including the buildings of the Chantiers maritimes de Charlevoix Ltée, its equipment (1946) 1 and its boats including the Saint-André and the Marie-Clarisse listed in the Protected Directory of Quebec Cultural Heritage. under the Cultural Heritage Act.
Concerned with being an informal place for education, the Museum offers and renews a program of activities and training, including workshops for school groups.
The Museum also enlivens the Navigators' Park and its marine forest, in particular by cultivating the varieties of trees necessary for the construction of a wooden schooner.
Between nature and culture, mountains and river, it preserves and disseminates for the populations of here and elsewhere, today and tomorrow, young and old, this exceptional part of the history of Charlevoix.