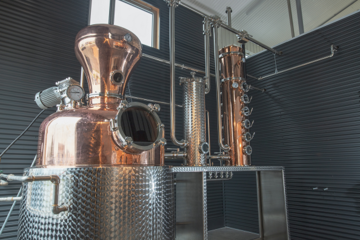 Usine Distillerie Mitis
1034 Avenue de la Gaspésie, Mont-Joli, QC G5H 0B2
We specialize in the production of fine spirits where inspiration comes from its region, La Mitis.
We produce a range of spirits from local and imported ingredients. Spirits made from sugar cane are our specialty.
As we appreciate diversity, we have developed Mugo gin in collaboration with Les Jardins de Métis and we are developing Acerum, a spirit made from concentrated maple sap whose name is reserved for Quebec, in partnership with Ma Cabane en Gaspésie.
The project started in 2016 from a common passion for spirits, a dream of creativity and the desire to participate in the development of our region. As entrepreneurs, our value is the creation of quality and distinctive Quebec spirits.
We have chosen the location of our distillery for a major reason: water, an essential resource for making our products. That coming from the Mitis river gives us the characteristics sought for fermentation and gives us a product that meets the standards of the flourishing industry of fine spirits.
The process
In order to create products according to our values ​​and our quality standards, we develop partnerships with companies and local organizations specializing in their field. We carefully select our ingredients to make our products unique, even atypical. We perfect each of our production processes and surround ourselves with the best in order to benefit connoisseurs and nonconformists and to make the Distillerie Mitis experience more authentic.