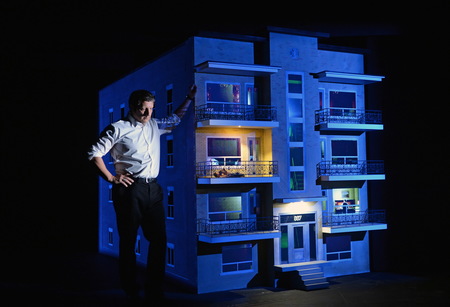 After more than 30 years in the business and with a staggering number of productions behind him (including such multi-hour epics as The Dragons' Trilogy, The Seven Streams of the River Ota and Wagner's Ring cycle), Robert Lepage is unquestionably a giant of the theatre. So it seems apt that in his latest touring show, he roams among scale models of apartment buildings and cars like some erudite and inquisitive Godzilla unleashed onto the streets of Quebec City.
887 is both the number of the apartment building in which Lepage grew up and the name of the latest piece from his company Ex Machina. It's also Lepage's first solo show since The Andersen Project in 2005.
The dollhouse world created for 887 is partly influenced by an exhibition Lepage came across in an Osaka museum, which used similarly scaled-down models to make the point that memory has the odd effect of making the physical world of the past seem smaller.
"At the very start, my intention was to do something about the theme of memory in general," Lepage explained in a brief, but characteristically articulate phone interview. "But I've never really started a show with a theme. I often need an object or a thing. So of course, that building where I lived, and where I was brought up in the 1960s, was an interesting object to play around with, because it contained not only my family's story, but the life story of the neighbours also."
As well as the apartment building on the predominantly anglophone Murray Ave., where Lepage grew up, the set — both simple and technologically complex — also unfolds to reveal the lonely nighthawk diner where his taxi-driver father would sometimes pass his time. We also see a puppet of Charles de Gaulle emerging from Lepage's pocket to ride a tiny motorcade through an adoring crowd of Quebecers.
As a man in his late 50s, it's understandable that Lepage is mining memories of childhood and family for his material, although he is on record as saying that virtually every show he has created is in some way autobiographical — a form of therapy.
But 887 would seem to be Lepage's most directly autobiographical piece so far. Its origins lie in an amusing bit of pop-quiz fluff.
"The theme of memory came from quite trivial things," Lepage explained. "Why is it that I can remember so easily the lyrics to the opening theme song of Gilligan's Island? Why do I remember these trivial things and I can't remember the names of important collaborators?"
The show's theme was also born of Lepage's difficulty in learning the words of Speak White, Michèle Lalonde's blistering Québécois poem that denounced the dominance of the language of the oppressor. Lepage found himself pondering the phenomenon of memory after being invited to read the poem at a commemorative event in 2010. (It was first delivered live by Lalonde in the crisis year of 1970.) The poem, he explains, also provided an important signpost in the maze of memories.
"There were so many things to be said about the 1960s and my youth, my family, the political context, and all these things, and it was all over the place. And Speak White was pretty much the ideal end point, the endgame of this story. So it helped me kind of sift through it all and create a kind of structure."

The set of Robert Lepage's 887 includes a figure of Charles de Gaulle riding a tiny motorcade through an adoring crowd of Quebecers. 
Not surprisingly, given the inclusion of Lalonde's poem, politics is never far away in 887.
"It was a class struggle more than anything else," Lepage said of the anglophone/francophone divide (887 is being performed only in French at TNM). "It so happened that the bosses spoke English and the employees spoke French. So it was much more of a working-class thing in the '60s, and eventually evolved into something completely different.
"People have forgotten that, and I think it's our job as artists to go back and try to understand why did this happen, who said what and who triggered what. I allow myself to do that in this show because those were years when I was a kid. It's not seen through the eyes of a mature adult who votes and has a party membership card. It's a completely different way of looking at it. It's more poetic, it's more personal, it's more emotional. It's more about family also."
The show recalls Lepage's life with his mother and several siblings, as well as a grandmother going through the early stages of dementia. (Lepage made characteristic connections between physiology, language and art when he mentioned research showing that "if you're bilingual, the onset of the first symptoms of Alzheimer's are delayed by about four years. Also, learning music late in your life is very good for your brain.")
But the family member who emerges as the most central to Lepage's memory play is his father — which came as something of a surprise to the artist.
"I guess it was a big shock because I always thought I was much more of a mommy's boy," he said. "My mom was funny and she told stories, so I always thought I became an actor and a storyteller because I carry all that from her. I always thought that my father didn't have any real influence on my life. As I explored this idea of memory and this whole period of my life, I realized how much closer to him I was, and how I resembled him in so many aspects. I'd kind of kept that at bay for a while, for some reason, but he became pretty much central to the piece in a way I did not intend."
887
NAC English Theatre
Featuring Ex Machina / Robert Lepage
When: Jan. 10 – 27, 7:30 p.m., with 2 p.m. matinees on weekends
Where: National Arts Centre, Babs Asper Theatre
Enregistrer